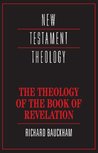 I was fortunate (?) enough to read this in less than 24 hours as I rested sick in bed (but could not sleep). So not much of the Bauckham's theological nuances slipped past me.
It's most noteworthy aspects are its 1) speculation about first-century interpretation 2) trinitarian threads of emphasis and 3) balanced theonomic (but non-reconstructionist) motifs in relation to holy warfare and Christocentric "witness" (i.e. martyrdom).
The only major disagreement I had with Bauckham is his repeated insistence that John's Apocalypse has absolutely nothing to do with the tumultuous Jewish wars (causing strife among christian Jews as well), the destruction of Jerusalem in 70 A.D., and the end of the old covenant "creation." He places a lot of emphasis on the new covenant kingdom already being inaugurated, but he insists that the first century audience of John's Apocalypse would not have considered Jerusalem and Herod's Temple as a center of power or idolatry (and hence, could not have been mistaken for any "beastly" figure in Revelation). To Bauckham, all of the beastly images have to do with powers and idols of the early/ancient Roman Empire.
Even though that is a significant disagreement i have with the book, I would still highly recommend it for its clarity and exegetical balance. I think it steers much of contemporary speculation about John's Apocalypse in a healthier direction than all "futurist" (pre-millennial) views offered today. It also steers clear of the unhealthy "dominionist" abuses far too often emphasized among postmillennialists, as well as the cerebral pietism highlighted among amillenialists. I suspect that if Bauckham were asked what his own personal "millennial" position was, he would respond by pointing out how insignificant the theological implications of the millennium are when compared to the rest of the book's much clearer theological implications